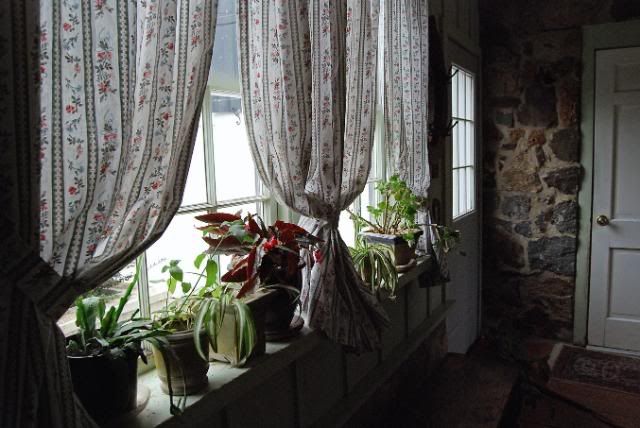 When I was young, I could go all day. I could run up stairs and then down, and I had so much energy and was considered very strong for a woman. And now, well not so much to any of the above. Oh, I can do physical labor, but it just takes longer. And after today, I just want to go to bed and sleep all night.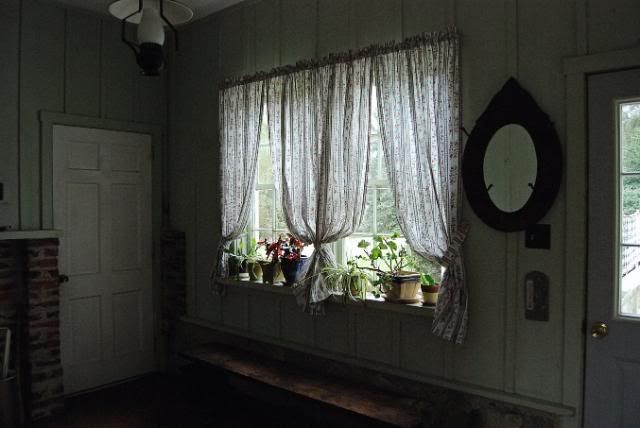 And I've got a long way to go. This is the mudroom and I'm leaving these photos dark because if I published them any lighter, you'd see all the flaws. And we can't have that now, can we?
This is the room between the garage and the kitchen. We use it as an entry way and figured if it's a mudroom then we ought to use it as such and keep all our boots, hats and scarves out here. It's just a thought right now. It will probably end up being way too cold to do this and then we'll go to plan B. Today I washed all the windows in the room and scrubbed the woodwork. Not all of it. I got tired after awhile. The floor is something we'll adress later. But the curtains look nice on the windows. They're old ones I had and they go well in the room.

I also did a lot of other things today, all of them involving moving things around and cleaning and polishing. My in-laws are coming tomorrow to stay with my husband while my son and I go to my father's memorial service at my sister's house. My eldest son will meet us there and then ride back here tomorrow evening to spend the night. I wanted to have a bedroom ready for him, and everything looking nice for our guests.

If I can figure out how to record George listening to that bird clock, I'll post it. If anyone knows how to do this, please let me know. Do I have to upload it to Youtube or something?

Another great meal tonight, thanks to Adrienne, who gave me the recipe over the phone. We had sauteed shrimp w/cilantro and ding dang diddly, was it ever great.
Here's a shout out to Adrienne's friend, Lorraine. Hey, girl! Now you know what a dork I am!
Thanks to all my blogger friends for the warm and kind wishes. It makes all the difference in the world.
Well, until tomorrow, my friends . . .