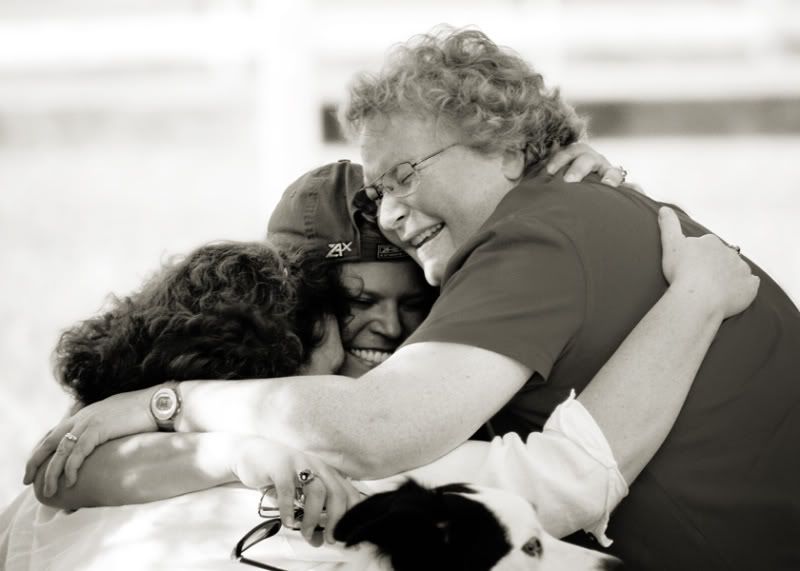 Me on the left, Adrienne in the middle and my sister Char on the right. Somewhere in there is my friend, Karen, but she got lost in the shuffle. We aren't crying, we're laughing. They came out that weekend not to help me clean, but to help me pack for my move and to cheer me up.
I never wanted to just come out and say what's been happening in my life because it's not all about me. It involves my husband and some things are just personal, you know. But he told me it's ok to share the basics, especially if it would make me feel better talking about it. I don't want pity, nor does he. God, I just couldn't deal with that.
My husband is a cancer survivor. Brain tumor, May 2004. It was traumatic, to say the least. And slowly, over time, life returned to normal, albeit a new normal. He had some short-term memory loss, pretty specific to names. Horses names, peoples names, that sort of thing. But other than that, you'd never know to look at him or talk with him. Amazing.
Then at the end of June, he lost his job due to the state of the thoroughbred breeding industry in Maryland. He quickly landed another position in Pennsylvania, but we could tell from the start that it wasn't working out. He wasn't happy, but we needed the job.
In September, however, during a routine screening for tumor recurrence, the latest MRI showed some changes. A visit with a surgeon at Johns Hopkins confirmed our worst fear. The tumor had returned.
And then my father passed away. I couldn't go out to be with him because my place was here with my husband. I had to say my farewell over the speaker phone.
This specific brain tumor has an exceedingly high recurrence rate. Known as a glioblastoma multiforme, it's a bugger of a thing. And so far, he'd beaten the odds. For four and a half years, he astounded his doctors at Hopkins, surprising them by staying well.
Surgery was highly recommended and the sooner the better. We'd already scheduled the move for this past Saturday, and the only opening for the surgery was Friday. We could have gone with another surgeon, but we wanted the best. And so Friday, it was. To make a long, scary story short, my husband is doing well at the moment. That's really all I want to get into at this time and I'd really just like to forget the whole weekend. But I'll tell you what I will always remember . . .
How does one move into a home under these circumstances, do you think? Well, we did it with the help of our friends and family and I don't know what we would have ever done without them. My sister, Char came out first thing Saturday morning. My youngest son was there helping by taking care of the dog and cat and helping us pack. Then my husband's sister, Helen and her husband Bob showed up at the new place in time for the movers to arrive. Adrienne and Bobby, who arrived at our old place on Friday night, and helped us until my husband arrived home from the hospital on Monday, were a Godsend. One of my friends from work who lives nearby brought dinner on moving day.
Everyone unpacked our things, setting up our furniture, our books, kitchen things, bed linens, and even set out familiar pictures of our family for my husband and . . . it was amazing. I don't know how I will ever thank all these people. And when I brought my husband home from the hospital to our new place, he slowly walked around, looked at everything, and sat down. He was completely overwhelmed that people would do all this for us. And with tears in his eyes, he told me that this house was wonderful. And that it would all be ok.
So this is my story. This is my life. I am fine. I'll be back when I can. I still have much to do and have taken some time off my work to be with my husband.
So, until then, my friends . . .